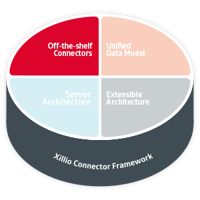 1. Connectors
Xillio offers a myriad of off-the-shelf connectors with Enterprise Content Management Systems, including Alfresco, Documentum, FileNet, OpenText and many versions of SharePoint, and with Web Content Management and other systems such as Adobe Experience Manager and Github.
These connectors communicate through the UDM to create a one-to-many access point to integrate, migrate and manage content.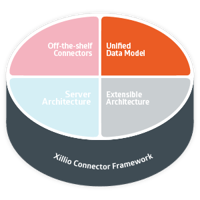 2. Unified Data Model
The Xillio Unified Data Model (UDM) is a unique database-independent data model, currently implemented in MongoDB, that can understand any unstructured content.
It collects and understands the meta-data tags of unstructured content, indexing its content to create an integration layer for federated searches across interoperable repositories.