Free Webinar: A Roadmap to a Lean and Agile Content Landscape
Webinar
Wednesday, January 9th, 2019
4.00 PM CET / 10.00 AM EST / 7.00 AM PST
As part of their Digital Transformation, most organizations are beginning to think more strategically about their content landscape (the total of all the applications and services they have to manage, create and use for their content). We see that this thinking translates into a "road to a lean and agile content landscape".
Lean means you should identify and clean your content and consolidate repositories as much as possible and agile means you make your content repositories easily accessible and unchain all the content within. An organization can then maximally benefit of the value of their content and put it to use. During our webinar on January 9th, we tell you why you should and how you can achieve this.
During this webinar you will learn:
What it means to have a lean and agile content landscape;
How you can consolidate your content repositories;
How you can benefit from content integration;
How your Digital Transformation benefits from migration and integration.
Featured Presenter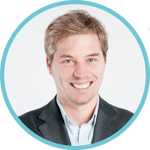 Sjoerd Alkema is responsible for Xillio's Content Services division. This division delivers two things: connectivity for our ISV partners in the Content Services domain and professional migration services using the Xillio migration platform. Sjoerd has many years of experience in consultancy and solution management, at Capgemini among others.
Subscribe now!