BIDMC Sitecore upgrade: Enabling content reuse
by Remco Steelink, on Apr 30, 2014 4:12:00 PM
When you decide to upgrade your CMS to the latest version, you can migrate the content as is. But why not take the opportunity to restructure and enrich your content? For the Sitecore upgrade at Beth Israel Deaconess Medical Center (BIDMC - the teaching hospital of Harvard medical school) we did just that!
Ever had an editor complain about having to create the same piece of content multiple times at different locations? Even CMS upgrades provide a perfect opportunity to take a good look at your content and how it's used. One of the things to consider is content reuse, which can greatly save time and money spent by your business.

Incorporating reuse into the upgrade
A web page can contain many components, such as contact details or a banner component, which can often be reused on other pages. When BIDMC decided to upgrade their Sitecore CMS from version 5.3 to 6.5, the decision was made to restructure their content and incorporate content reuse.
Recreating and modifying manually
In the past, Harvard's editors had to recreate the same component for every new page they were crafting, as has been depicted on the left side of figure 1. Furthermore, when they had to change, for example, the telephone number of their service desk, each individual page with the same old telephone number also had to be manually modified.
Saving time through reuse
Together with having to recreate the same content, this is a timely and costly business which can easily be prevented by incorporating content reuse. With content reuse, each component is only created once, and each page includes this component, as depicted on the right side of figure 1.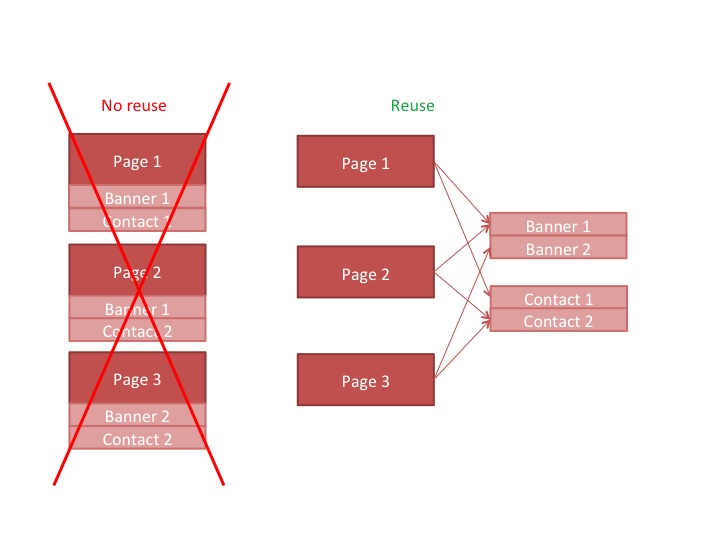 Identifying the unique reusable components
By analyzing BIDMC's content, an inventory was made of all the components used on their web site. From this inventory, a unique set of components used on all pages was identified. A component repository was made for each type of component and the unique set of components was split up and moved to the corresponding repositories.
Giving components meaningful names
Like any CMS, an item stored in the CMS needs to have a name. A name like 'feature component', which was widely used by BIDMC, is not very meaningful. Therefore, some naming policies were defined. As an example, for the contact component the name of the person was used as the name of the component.
Merging content types, deleting old pages
Besides changing the way components were used, BIDMC also decided to merge content types and delete old pages that were not relevant anymore.
By providing detailed information about used content types and the fields that editors can fill out for those, BIDMC were able to do a gap analysis on their newly defined content types and created any missing fields.
Old pages were removed from the migration list.
Pages that had their content type changed were modified accordingly.
Having prepared the components for reuse, specific components were added to pages where they were lacking in the past.
Three benefits of our approach
Since all page components were moved to their proper component repositories, BIDMC editors are now able to find and reuse them. Furthermore, instead of modifying every component under each page, this can be done from a central position. This is how our client benefits:
Reduction in time and money spent by the business
Better structured CMS to work with for the editors
Great foundation for the future.
---------------------------------------------------------------------------------------------