ApplicationXtender, it doesn't get more legacy than this
by Arthur van der Wal, on Jun 23, 2020 2:33:12 PM
Ok, so we have been migrating records and data out of legacy ECM systems for a very long time and once in a while we encounter systems that we don't migrate very often. Not a problem though, we enable successful and cost-effective migrations from any legacy ECM, even the ones that can't get more legacy J
Ever heard of the content management system ApplicationXtender? ApplicationXtender, also known as AX or AppXtender, offers a variety of document management features. It uses image processing to bring large amounts of data online in a cost-effective manner. ApplicationXtender Document Manager (AppXtender Document Manager), AppXtender's end user desktop module, can be used to create, enhance, store, retrieve, and output any type of document. The product used to be part of EMC Legate, later the EMC Documentum suite and after the acquisition by OpenText, logically named OpenText ApplicationXtender.
Migrate ApplicationXtender to cloud, like SharePoint or Box
Lately, we received a request to migrate data out of AppXtender in favor of the cloud content management system Box. This was a complex migration project, as there was no API available and lack of knowledge regarding the data structuring of AppXtender.
AppXtender content is based on several application stores. Every application contains documents and data related to a process. Documents can be retrieved through searches that query corresponding index information.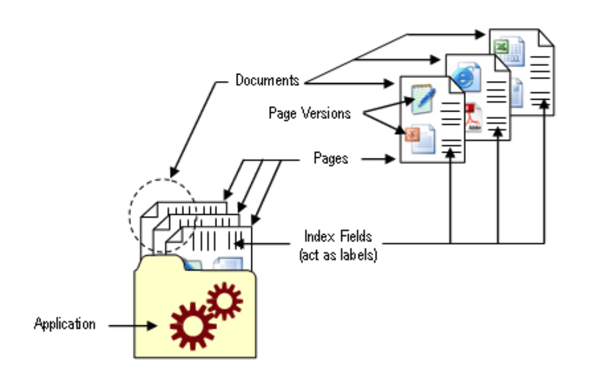 Organization of content in AppXtender. Source: Dell EMC
The challenge during this migration was the fact that binary files from AppXtender could be related to several documents. In practice, this meant that a PDF file could consist of multiple invoices, each with their own metadata. A similar model is not supported in Box.
To make sure all content, documents and metadata, would become available in Box and eventually also searchable, Xillio built custom Box templates for every AppXtender application and created new metadata fields in Box. To save the documents' metadata, Xillio created Box notes for every AppXtender document. As there was no API available, Xillio was forced to directly access the database to extract the content and calculate the paths to the binaries as it was not stored in the database.
Do you need to convert or migrate your legacy ECM data safely, securely and fast? Do you think you have a legacy system that we can't deliver on? We can't wait to to be challenged again!