First Stop in The Digital Transformation Journey: Content Pollution
by Rikkert Engels, on Apr 16, 2018 1:47:09 PM
With the advance of IT, we started to create, share, copy, store and consume content at a rapid pace. Solutions for organizing and archiving this content were created on the fly, and everyone seemed cool with that. But times have changed. We now know that we were wrong to think of Information as somehow playing second fiddle to Technology.
The crucial role that content plays in our lives looms larger every day. Fortunately, most organizations are taking action. As part of their Digital Transformation, they are beginning to think strategically about their content. First stop is doing something about content pollution.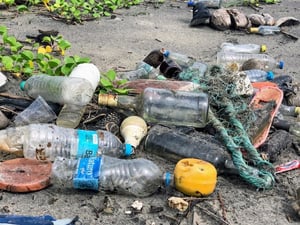 To address the content pollution problem, there are basically three questions organizational leaders can ask themselves. Is your content standing in your way? Is your content (still) relevant? Are you making the most of your content? Let's take a look at these core questions in more detail.
1. Free your content
Content is stored in multiple systems, applications and business processes within the organization. There is a tipping point in every organization where content fragmentation begins to hamper the operation of every part of the business. At this point, there is a need to free your content from their content silo's.
2. Fix your content
There is no point having fast and unimpeded access to content that you no longer need or want. Systems are polluted with duplicate content, irrelevant content, draft versions of relevant content and so on – you're suffering from ROT (Redundant, Obsolete, Trivial) content. If you want your business to be supported by a lean content environment, you need to fix your content.
3.
Know your content
Content fragmentation and pollution hide content from the business. This is a commercial hindrance, obviously, but it also interferes with compliance and governance. Most organizations need to pro-actively reacquaint themselves with their content because you cannot drive your business forward if you do not know your content.

So now you know you need to Free, Fix and Know your content. But how? How can you achieve a coherent content landscape? One way is to start a content migration project. A result of a migration project is that fragmented content is migrated and stored in one centralized system (FREE). A migration project always starts with an analysis of the content in current systems (KNOW). Based on this analysis, there can be decided what to do with this content, such as clean it or delete some of it (FIX).
--------------------------------------------------------------------------
Free White Paper
Next Steps Towards Digital Transformation
First step in your digital transformation journey is get rid of content pollution. But what is next? How can you start building a content-specific Digital Transformation roadmap? Learn more in our "Content Migration: Strategy" white paper.