The anatomy of an ECM system
by Guest - Alistair Pugin, on Sep 23, 2020 2:07:01 PM
Preamble
Back in 2001, when companies like Zylab, Livelink and Kofax where still only doing Document Management and Image Capture, everything was disparate. Physical paper was scanned, indexed, classified and categorized based on what type of document it was, what data was captured within the document and what was supposed to happen to the document once it was received by the mailroom.
With the advent of word processing tools by companies like Microsoft and WordPerfect, many organizations shifted to digitizing their paper-based content, mainly forms, into electronic versions of them. It became cheaper and easy to create, and to modify paper-based forms. Naturally, this created a new technology segment called electronic forms, which drove the rise of the concept of a paperless office. Now, AIIM had been around for the better part of 50 years, driving models, methods and tools around collating content within an organization and they coined the term ECM (Enterprise Content Management) in the early 2000's.
So what does Enterprise Content Management really look like?
Its still a bit of a mystery for me. I've been working with ECM technologies since 2001 and it still amazes me that the world has different views on the subject. There's even a new version of this, called Content Services. We've seen Microsoft, AIIM, Gartner and others drive this ECM 2.0 of sorts as the new way of deriving Knowledge and Insights within an organization.
"Tapping into tacit and codified knowledge within the organization to foster innovation and growth". I have used that sentence so many times over the last 15 years, during presentations when I needed to explain what ECM was. It's still relevant today but what does it really mean.
Well ECM is made up of the following:
Intelligent Capture (Scanning Paper)

DM - Document Management

RM - Records Management

Enterprise Search

WCM - Web Content Management

DAM - Digital Asset Management

BPM - Business Process Management

Electronic Forms
With those technologies, companies can manage the lifecycle of content within the organization. And this was the dream we sold. We used the AIIM ECM 101 poster as our north star when navigating through what Enterprise Content Management was.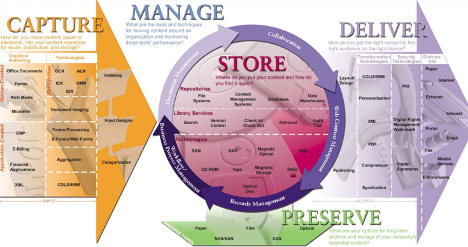 ECM 101 Poster AIIM
Let's forego all the regulatory and compliance components that make up ECM. Ergo, the RM and DM bits that make up ECM. At its core, ECM was really about improving how we processed information and how we found information. ECM was about improving operational efficiency for organizations. Building out processes that improved the opportunity cost associated with performing a task. As much as we always added all of the other pieces of ECM, at its core it was, and still is Process Management. The work objects, (electronic documents, paper, web pages, digital assets such as audio and video) either initiated the work process or were seen as artifacts of performing a specific task. ECM brought all of these pieces together to make processes more efficient, more streamlined, less intensive, promising organizations better productivity.
And in so doing, organizations would invariably understand what processes GOVERN what CONTENT and WHO works with those content. And that leads me to the next step, now that we understand what ECM was created for;
What is ECM today?
Or rather how do we achieve a viable knowledge economy in an organization today? It starts in exactly the same way as it did when AIIM came up with the term.
Know what you do and what is required to do it.
These are my 5 steps to getting to know what your ECM landscape looks like:
Investigate

- Find out what content is generated and where it is stored

Document

- List how the content is used. What processes they are part of

Effort

- Measure how long it takes for content to go from creation, to its final resting place

Time

- Understand how it gets used after it is stored. Do people still need it?

Secure

- Consider the regulatory and security requirements that are associated with the lifecycle of the content
Its 5 simple steps that you can follow. This will give you a bird's eye view of the age-old fundamental structure within every organization. It does not matter what vertical your organization is in; it all has the same 3 things:
People

Process

Content (Its used to be paper but that has changed)
The intersection of People, Process and Content is the base functionality of any and ever company out there. It is the cogs in the machine. The moving parts that run a company.
How do we achieve ECM today?
There is no silver bullet or magic wand that you can wave over how your organization functions. ECM take times to unpack, it takes people and effort to build out and it takes deploying technology to glue all of this together. It's also a continuous, iterative process as organizations go through changes which would after how content is created, worked with and how it gets stored so make sure that you have a team that understands the goal of the organization.
The names might have changed, describing the umbrella that is ECM, (Content Services, Intelligent Information Management) call it what you want. The guiding principles remain the same. By following these simple rules, companies can adopt ECM successfully and improve the way that they perform tasks.