The Truth About Legacy ECM Migrations
by Guest - Alistair Pugin, on Aug 31, 2020 10:53:22 AM
Preamble
For the longest time, SharePoint consultants have spent a considerable amount of effort having to migrate from one version of SharePoint to the next version of SharePoint. Custom applications, custom workflows, custom webparts, custom page layouts, custom everything. The easiest part was when we could do database attaches and with a bit of panel beating, we managed to get it done reasonably well.
And then came along the migration companies, the AvePoint's, Metalogix's, the Sharegates of the world and they greatly reduced the time it took to migrate not only content, but sites and "workspaces" from one version of SharePoint to the next. And still today, there is an entire industry that does SharePoint to SharePoint migrations. In fact, most of my MVP colleagues are still doing it, albeit mostly from SharePoint on-prem to SharePoint Online.
Now, I started in Knowledge Management with a product called Livelink, back in 2002. I was fresh off the Infrastructure Management boat, being asked to look at this thing called Document Management, and stumbled onto ZyLab, Kofax and a few other products for image capture and naturally, we had to store the content somewhere, which ended up being Livelink. What a huge departure from what I knew as an IT consultant. Suddenly, I had to figure out what Document and Records Management was, what BPM was, what Enterprise Search, WCM, all of the M's were. It was daunting but exciting at the same time. I fell in love with how structured and functional Livelink was.
Anyhow, enough about me, back in 2017, Gartner, AIIM and Microsoft decided to put the concept of Enterprise Content Management to rest finally, and ushered in the new world of ECM, called Content Services. The world of ECM was flipped on its head. Where to from here? In the years leading up to the demise of ECM, OpenText, the company that owns Livelink, pretty much bought every other product vendor out there and consolidated all the products that they bought into this bemouth that we now know as OpenText EVERYTHING (They pretty much own all of the other ECM products, including Hummingbird, Documentum, Vignette, etc). And while OpenText bought everyone, Microsoft has quietly been building out a proper ECM/Content Services Platform in SharePoint.
If SharePoint is finally ECM/Content Services ready (tongue in cheek because there are quite a few naysayers out there), why are companies still investing in legacy ECM platforms like OpenText and others?
That's really my question. And I put this to the same group of MVP's that I have worked with over the last 10 years in the SharePoint space. Its really quite simple. They didn't know that there was a mechanism for migrating content from legacy ECM platforms to SharePoint Online.
Enter: Xillio
If you speak to Rikkert (CEO of Xillio), he'll tell you about working in the financial services sector deploying Knowledge Management solutions and how the process was frustrating when organizations tried to consolidate multiple ECM platforms that they bought over the years. Which is probably why he started Xillio back in 2004.
Fast forward to 2020
More so now than ever are we seeing companies moving with pace to the cloud. Satya Nadella said back in April of 2020 "We've seen two years' worth of digital transformation in two months. From remote teamwork and learning, to sales and customer service, to critical cloud infrastructure and security—we are working alongside customers every day to help them adapt and stay open for business in a world of remote everything." and this has been the rhythm of companies globally.
What does this mean for legacy ECM platforms? Well for the most part, organizations will perform traditional rehosting of their virtual infrastructure to either AWS, Azure, Google, or other cloud providers, incurring more cost for expensive compute, required to run legacy ECM solutions. Yet most of these companies have at least an Office 365 license. Ergo, they already own SharePoint Online.
And this is why companies should start investing time and effort into migrating their legacy ECM solutions to SharePoint Online. Now, I am not going to do a comparison between legacy ECM and SharePoint Online. We can address that in another post. What I want to cover is the ease of migrating legacy ECM products to SharePoint Online.
XIllio has a 5-step process that will migrate your legacy ECM platform to SharePoint Online with consummate ease.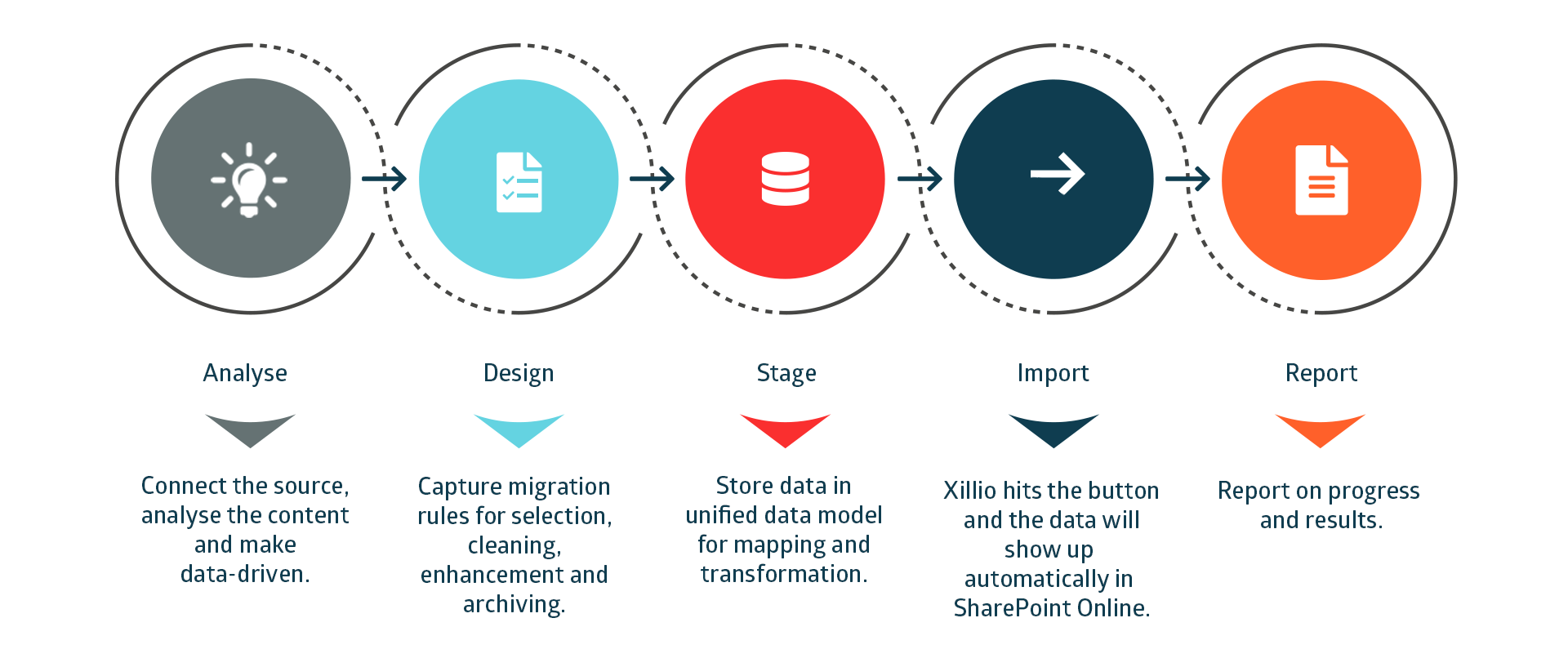 Analyze
Understand what you have. I have walked into companies that believed that they had terabytes of content that was absolutely necessary to keep yet after the assessment, its was less than a 3rd that was required.
Design
Build out what content should be migrated across and what can either be deleted or pushed off to cheap storage for archiving.
Stage
Xillio's UDM (Unified Data Model) tooling allows organizations to accurately map:
what content needs to move,

how it needs to be transformed,

where it needs to be stored,

what rules need to be taken across and finally,

what access control is required in the destination system for users to access the content as before.
Import
This is self-explanatory. Xillio hits the button, you relax and make some coffee.
Report
The reporting feature provides organizations with a continuous dashboard of the progress of the migration as well as a final migration report that can be used for exception handling and also a view into the success of the migration.
How does this get done?
Let's be honest, there is nothing simple about migrating from a legacy ECM systems to any platform, never mind it being SharePoint Online.
You need the tooling (Xillio), the understanding of both the legacy system and SharePoint Online (Xillio Consultants or trained Xillio partners) and the engagement model that has been proven through Xillio's migration methodology. And it's with this, that Xillio is uniquely positioned to getting the job done.
Let Xillio do the heavy lifting for you.

---
Tipsheet: 6 Important Tips for Migrating to Microsoft 365