Content analysis of EMC Documentum
It's a known fact that a large amount of business information is unstructured. Your current Documentum repository also contains unstructured content, and this leads to a number of challenges. In particular, the functional and technical management of Documentum is difficult because of the sprawl of content, as well as the process of performing an upgrade or migration. Also, being compliant is practically impossible with 'polluted' content and no way to identify where it is.
The main cause of the pollution in Documentum is often the misuse or lack of metadata. While all metadata models were created with good intentions, over time the original metadata model or the use of it has changed by end users. Often, a good strategy and implementation to delete content is lacking. This leads to an imbalance in the content collection, and poor findability of documents by end-users.
Do you want to gain insight into the quality of your content collection within your Documentum environment?
Content optimization of your EMC Documentum collection
Xillio can perform an extensive analysis of your Documentum installation and generate reports in a very short time frame. Xillio can run these reports against your complete Documentum product suite, no matter which version you're using. You can run this process through your preferred systems integrator, or just let Xillio do the work.
The default reports provided by Xillio include a number of different pieces of analysis, among others: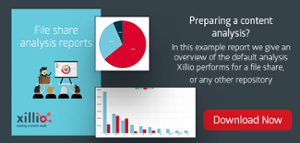 Total amount of Documentum items and files
Type items and files (extensions)
Total number of empty files
Insight into ACL structure (authorizations)
Insights into folder structures
File size
Duplicates, based on content within a document
Duplicates, based on metadata such as name, file size, author, date, etc.
Insights into available permissions and security data
Use and quality of metadata
Beyond these, there are many more. If you want to know exactly which analyses we can perform on your EMC Documentum environment, please contact us.