Content migration tool to migrate Documentum to OpenText CS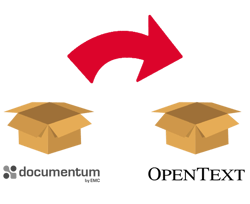 Now Documentum is acquired by OpenText, called Opentext Documentum, you might consider migrating your Documentum environment to a new content management system, such as OpenText.
During this migration, you want to make sure that all, or only a desired selection of, documents are migrated to a different solution without any impact on your business or to the integrity of the documents.
Xillio has the most expertise and years of experience in content migration. With Xillio, you receive proven methodology for a content migration from Documentum to OpenText. And, we have professional specialists who will make your OpenText import a success!
Features migration Documentum to OpenText Content Server:
All Documentum items are exported, including renditions, content types, workflows and access control lists;

Transformation to unified content model;
Data is cleaned, enriched or enhanced;
Support for all OpenText CS features for import, including versions, multivalue fields

and

object security;
The

is optimized for performance, an average of 7 times faster than standard OpenText importers.